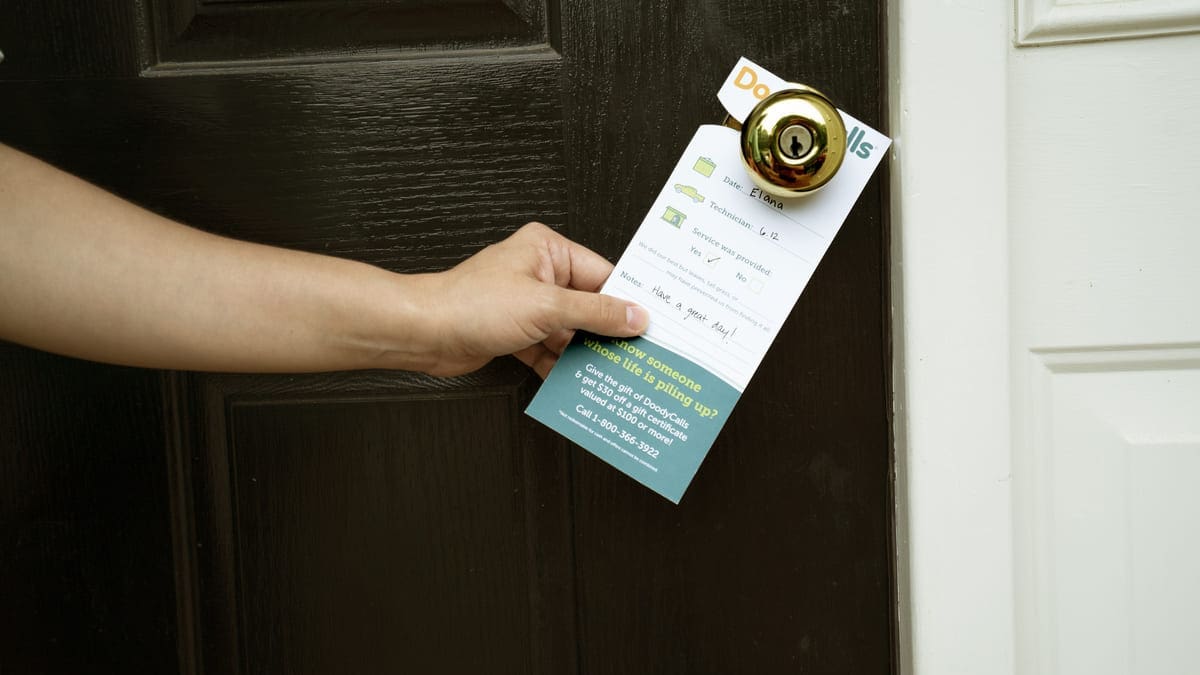 ---
In late 2000, DoodyCalls founder, Jacob D'Aniello came across the idea for a dog and pet waste management company. He heard an interview with a man touting the incredible benefits of the dog poop waste removal business model.
The owner loved his poop-scooping company. By owning a company like DoodyCalls, he earned a good living making a sizeable income. He was free to choose his own work hours and wasn't overburdened by responsibilities. And thanks to the extreme need in the marketplace, his clients loved him and kept coming back for repeat business.
The following week, Jacob officially started DoodyCalls. Shortly after that, the phone started ringing off the hook with residential and commercial customers.
In 2004, Jacob and Susan left their jobs to focus on DoodyCalls full-time. The company established headquarters in Charlottesville, Virginia, and began franchising nationwide.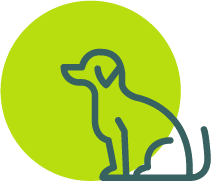 ---
The vision of DoodyCalls is to make the world a happier and healthier place for people and pets.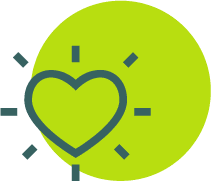 ---
At DoodyCalls, we provide exceptional pet waste management services for homeowners and businesses across America.
---
Larry Amos is the Brand Leader and Senior VP at DoodyCalls. With a background in Mass Communication from West Virginia University, Larry has over 20 years of executive leadership experience in team development, franchise territory growth, marketing, and operations.
Prior to joining DoodyCalls, he held positions at Bed Bath & Beyond, The Gap, and World Market. In his current role, Larry assists franchise owners in growing their businesses, identifies market opportunities for expansion, and acts as a visionary for the organization. He is located at the brand office in Fairfax, VA.
Before becoming Brand Leader, Larry helped grow the Washington DC DoodyCalls into the high performing DoodyCalls business it is today. He and his team grew their commercial and residential customer list exponentially! Outside of work, he enjoys travel, running, reading, and spending time with his family.
Director of Operations & DoodyCalls Franchisee
---
Paul Delaney serves as the Director of Operations at DoodyCalls and is a long-standing franchise owner. He and his wife Angela have been franchise owners for 18 years, making them the first DoodyCalls franchise outside of the Metro DC area.
In his previous roles, Paul served in the military and was also a local area firefighter. These experiences helped shape his leadership style and allowed him to gain extensive management experience.
As Director of Operations, he integrates the resources available through the DoodyCalls system and Authority Brands. He supports franchise owners in driving sales and providing the best customer experience. Paul is located in the Boston area and takes pride in introducing professional pet waste removal services to the region. In his free time, he enjoys spending time with his family.
Franchise Business Consultant
---
Jennifer Olewine is a Franchise Business Consultant at DoodyCalls. She brings a wealth of experience from her 25 years in big box retail, where she held management roles. Jennifer's primary focus in her current role is to coach franchise owners and help them grow their businesses.
She appreciates the team at DoodyCalls and the fun and values-driven brand culture. Jennifer is located at the corporate office in Fairfax, VA, and is known for being reliable and supportive to her team. Outside of work, Jennifer enjoys crossword puzzles, reading, and game nights with friends.
Franchise Business Consultant & DoodyCalls Franchisee
---
Amy Wise is a Franchise Business Consultant at DoodyCalls and a franchise owner herself. She holds a BS in Marketing from the University of Houston and has advanced certification in sales. Amy's previous experience includes working as a pharmaceutical sales representative for Eli Lilly & Co.
In her current role, she works closely with franchisees to help them grow their businesses. Amy enjoys the camaraderie and interaction with her colleagues and clients. Based in Houston, Texas, she takes pride in the success of her franchise, which won Franchise of the Year in 2021. Outside of work, Amy's hobbies include Latin ballroom dancing.
---
Diana Kavadias is the Marketing Manager at DoodyCalls. She holds a degree from the University of Maryland, College Park. Diana's previous experience includes working as a Marketing Coordinator, where she assisted with the launch of the Local Marketing Program for one of Authority Brands' other franchise systems, Mosquito Squad.
In her current role, she manages DoodyCalls' Local Marketing Program, advises franchise owners on marketing best practices, and provides general marketing support. Diana enjoys working with her team and appreciates the fun and values-driven culture at DoodyCalls. She is located in Baltimore, MD, and outside of work, she enjoys cooking, puzzles, walking, playing the guitar, and spending time with friends and family.
PoopNET Trainer & Support | DoodyCalls Franchisee
---
Dave Harvey provides franchise owner support in his role as a PoopNET Trainer at DoodyCalls. He is also a franchise owner and has been in the pet care industry since 2007. Dave has a wide array of experience and owns a doggie daycare and boarding facility in New Milford, CT. With a background in web design, he has also helped design and develop operations software for an electric scooter company.
In his role, Dave trains new franchisees on using our proprietary PoopNet software and provides ongoing support to franchisees. He enjoys working with a great team and contributing to the development of PoopNet. Dave is located in Brewster, New York, and his hobbies include fishing, boating, and spending time with his family and friends.
Customer Call Center Manager
---
David Peterson is the Customer Call Center Manager at DoodyCalls. He holds a degree from Shenandoah University and has strong public speaking and customer support experience as a result of his time presenting at a presidential home during his college years. Prior to joining DoodyCalls, David worked as a tour guide, costumed interpreter, and school visit planner at Ash Lawn-Highland.
In his current role, he manages the customer care team and works closely with customers, franchise owners, and team members to provide exceptional customer service. David appreciates the opportunity to work with good people and enjoys the new experiences that come with the job. He is located in Charlottesville, VA, and outside of work, he spends his time with his two children.
PoopNET Trainer & DoodyCalls Franchisee
---
Terry Vanecek serves as a PoopNET Trainer and is also a DoodyCalls franchise owner. He attended the United States Naval Academy and Quinnipiac University. Although he doesn't have previous experience in the industry, Terry has over 25 years of experience in the services industry. In his previous role, he worked as a Director of Global Service Product Development, driving efficiency and expanding service solutions in a global commercial services industry.
As a franchise owner, Terry owns and operates DoodyCalls of Greater Wilmington, Delaware. He primarily focuses on customer resolution and cherishes the close relationships with customers. Terry is located in North Topsail Beach, NC, and his accomplishments include providing pet waste stations for Surf City, NC, contributing to a clean ocean and a clear path for sea turtles. In his free time, he enjoys fishing, going to the beach, and spending time with his family.

The Growth of the
DoodyCalls

Franchise
DoodyCalls has grown to over 40 territories in 25 states and has been the subject of news stories in numerous publications, including two recognitions as the number-one pet waste removal franchise in the United States by Entrepreneur Magazine's annual Franchise 500 list.
Ready to learn more about why so many entrepreneurs choose to start a DoodyCalls franchise? Take the first step toward ownership by filling out the form or calling
(888) 659-6558
.